Altus is our leading project and portfolio management solution built on the Microsoft Power Platform
Elevate your work to achieve organisational strategy
Improve resource utilisation across all work
Transform work processes and foster collaboration
Evolve decision making with trustworthy insights
Focus on the work that matters
Align work to strategy to ensure delivery hits the mark with clearly realised benefits.
With Altus you can:
Optimise your portfolios of work to meet your strategic objectives
Allocate and track budgets against portfolios and programs
Capture and track benefits realisation and value delivered
Manage proposed initiatives, innovation opportunities, and ideas
View the Altus overview video to learn more
Right people, right places
Curb delays and resolve bottlenecks quickly across every project by focusing effort on the correct tasks.
With Altus you can:
Forward plan resource allocations across projects
Monitor exceptions easily through 'at a glance' dashboards
Track individual and team resource assignments and workloads
Complete, track and approve timesheets
View the Altus overview video to learn more
Manage the magic
Achieve organisational objectives across projects, programs, and portfolios by transforming the way you work. 
With Altus you can:
Give your people a connected, intuitive solution for all types of projects, programs, and portfolios across your organisation
Embed good process to manage risk, reduce effort and increase consistent, quality outcomes
Support all levels of project management expertise
Seamlessly collaborate through the platforms and tools your teams are already using
View the Altus overview video to learn more
Raise the platform of visibility
Make informed decisions with meaningful, up-to-date insights across all projects, programs and portfolios of work.
With Altus you can:
Create customised, real-time views of all work underway to meet your key information needs
Monitor project status and resources at-a-glance, with detailed drill-down capability
Increase visibility right up to executive level
Identify issues early and focus attention where it's needed most
View the Altus overview video to learn more
Watch the Altus overview
Altus helps you to elevate your projects, programs and portfolios, manage your resources and align the work that matters with organisational strategy.
Elevating your success
Altus has in-built features to ensure you are always supported, involved and up-to-date.
Embedded learning
Users have immediate access to comprehensive in-product tutorials, videos and reference guides.
User feedback
Vote for the new features you want through in-product surveys and receive notifications in your 'What's New' feed when they're deployed.
Regular feature updates
With our automated release train, you are always up to date with new features, just like Microsoft 365.
Use the Microsoft technology you've already invested in
Leverage your technology investment and work seamlessly wherever you go by accessing our deep expertise in Microsoft technology combined with real-world experience and modern industry best practices.
Altus is a Microsoft Preferred PPM solution.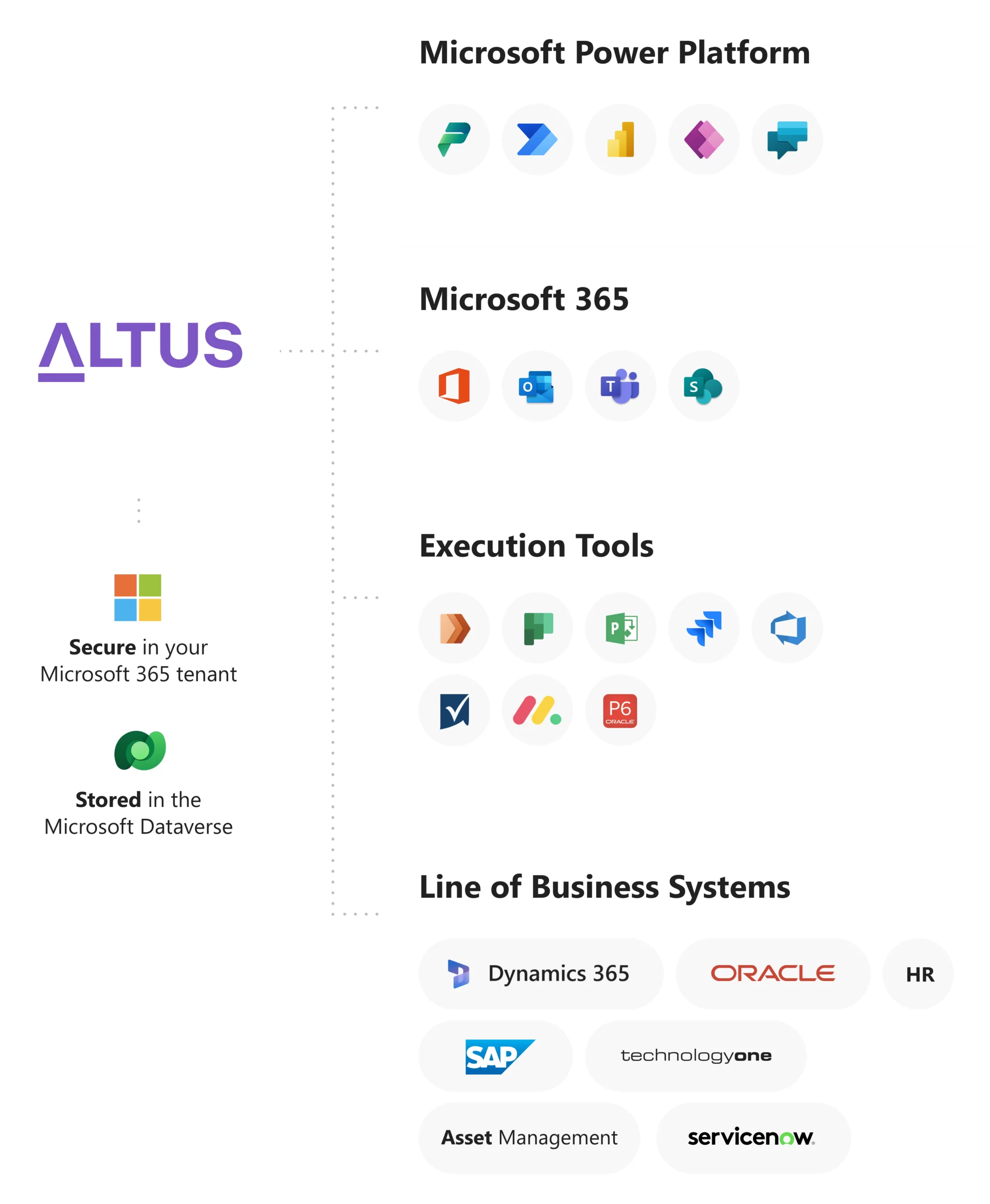 Integrate with your favourite scheduling tools
Altus seamlessly integrates with your existing task management tools, providing a single source of truth for all projects. Allow your people to work the way they want, with the tools they prefer, across all levels of project management maturity.
Talk to us about integrating the task management tools you are using or ask us about Altus Schedule.
Choose the Altus level that aligns with your organisation
We've designed 3 levels of Altus to meet your organisation's project management maturity so you can seamlessly elevate at any time.
For organisations managing projects of varying sizes and complexities, and teams that need to collaborate.
For organisations wanting to align and prioritise initiatives with their strategic goals.
Maximise your solution value
The following services can be added to any level of Altus subscription to meet your needs:
Process improvement and automation
Integration with Line of Business systems
100% User Adoption
Dedicated local support team & Account Manager